Can Primary Teachers Teach Yoga to their Pupils ?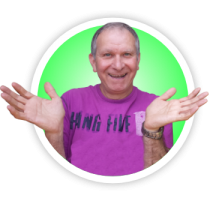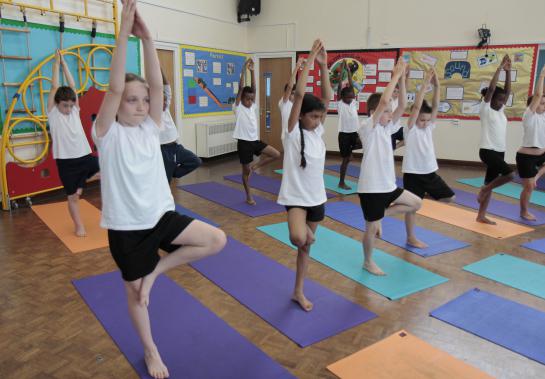 Imagine this...
It is 10.00 am on a Friday morning in January. Twenty-five nursery children file into the school hall where I have the yoga mats laid out in a large circle. I have never taught them before. Yet they know what to do. With very little encouragement most of the children find a mat and sit quietly in
Good Sitting
with lovely straight backs. Twenty five minutes later one of the best yoga lessons that I have taught, ever, is complete and I am speechless because they were amazing at their yoga.
Background
I have been teaching Yoga as part of the integrated day at a Primary School for many years. The Head talks about the positive impact on the children's concentration and behaviour that yoga has had.
All year groups partcipate, including the nursery class which is within the school. During that time I have worked with all the class teachers including Vicky. Vicky is the Nursery Teacher who over the years has brought a succession of nursery children into the hall for their weekly yoga session. I have lost count of how many lessons she has observed, co-taught and participated in. Recently the number of children coming into the school increased. The timetable was already packed and we were, sadly, unable to give nursery their weekly yoga session. It was a shame that these children were going to miss out on something that brings them great benefits and is huge fun.
The Plan
Vicky and I had a plan. At the heart of the plan were four ideas:
1. Vicky could follow the structure/model that I used for Nursery class




2. She would introduce postures that she had seen me teach




3. I would supply lesson plans




4. I would supply resources, like visual timetable, posture & game cards and any other props that I use.
Thus Vicky began to teach her regular Thursday morning yoga session to her new nursery children, using the format of the lesson and postures that she had seen countless times before. The fact that she had also seen how I had introduced those postures was important too, because she felt safe and confident teaching them. It also helped that I was around on Fridays to talk to about any problems and progress. The twenty five minute session counted as their PE time.
Up to Date
I used my time with children on that Friday to develop the sun sequence a little more and to introduce a new game. It was also an opportunity for the children to work with me and get to know me in preparation for next year when some will be in the Reception classes.
Vicky's Comments
Working with Michael over countless lessons has undoubtedly helped my confidence in teaching yoga to my class. I keep to the lesson structure and use appropriate language, as has been modeled by Michael. I have realistic expectations of the children's ability to perform the postures because I have observed Michael and seen the different levels of yoga in the Early Years. There is no doubt that my Nursery children respond well because of the structure of the lesson. The clear visual timetable, regular routine and repetition helps to put them at ease because they know what is coming next. At the same time it is simple to add new games or introduce fresh postures with little or no disruption, which is great because the children are motivated and excited when we bring in something new.
T
here are several English as an Additional Language (EAL) children in my nursery class, as well as children with Speech and Language difficulties (S&L) and Special Educational Needs (SEN). Yet during the yoga lesson all of these children are more vocal than usual, joining in singing the simple songs and calling out the names of the postures. In fact I have children who rarely speak at all in nursery, yet in yoga they can shout the name of the postures across the hall with no hesitation.
Every child is encouraged to find his or her level in the posture, by simply doing their best. For example in Hero, which is a balance, some children are able to extend their leg up and away behind them, while others may only be able to rest it on the floor. Irrespective of where that leg is, all effort is praised equally; the emphasis is on fun and I really enjoy teaching yoga to my class and it has definitely helped the children's emotional and physical well being. Every child is included and enjoys a feeling of achievement irrespective of their ability to speak English or perform postures perfectly.
And without doubt they love it, always asking if we can have yoga everyday!


Summary
The reasons why Vicky was successful at teaching yoga were:
She was already an excellent teacher rich in experience of teaching Reception and Nursery children.
As an professional practitioner she understands the benefits of using structure with younger children
She had gained considerable expertise in teaching yoga to children simply by working with me over a period of time.
She could use some of the elements of the yoga lesson at other Lmes in the school day. For example lining up and coming into assembly.


Conclusion
If there is one thing that I would like people in the yoga world to take away from Vicky's experience it is to be more open minded about educators teaching yoga to children. Vicky's example, and many others I have seen, show that people who already teach children have the expertise, skills and enthusiasm that need only to be supplemented by sound, safe yoga knowledge and expertise in order for them to bring yoga to their schools.
And if there is one thing I would like people in education to take away from this, it is that this is yet another example to support the case for yoga to be taught in schools as part of the integrated school day on an ongoing basis.
(c) Copyright Michael Chissick and Yoga at School 2016. Not to be reproduced or distributed without permission